Terre Haute musician teams up with classical music artist | Valley Life
3 min read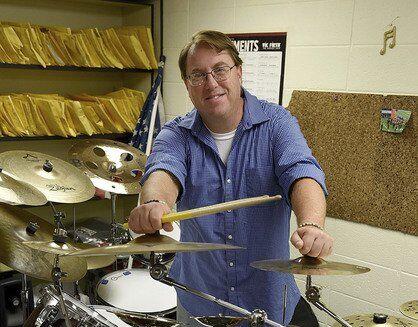 Jeff Winchester never expecting to one day be collaborating on an original song with an internationally-known classical music artist.
Winchester, is a Terre Haute wedding planner at Simple to Elegant, an event-planning business, and musician specializing in percussion. He recently teamed up with British soprano Summer Watson out of Los Angeles to collaborate on their new song, "Hero."
The two met over a Zoom event hosted by leading wedding industry expert David Tutera. The event had a special artist who happened to be Watson, who was performing her newest song, "Break the Silence."
Winchester took a liking to the song and Watson's voice, so he decided to record a drum cover of her song. Watson was taken aback by the cover and told Winchester to reach out if he ever needed her help. He would soon take her up on that offer.
Winchester originally composed "Hero" as a way to express pent-up emotions after suffering a tragic loss within his family.
After analyzing and working on it over the phone with friends, he decided the song needed a female vocalist.
He then reached out to Watson once again and the two went to work.
Watson carries a strong story of resilience after beating Stage 4 breast cancer twice and surviving a deadly train crash that severely impacted her singing career.
"Have a warrior mindset," Watson said. "Each day is an opportunity to live your best life and to seize the moment. This past year has been especially challenging for everyone. We are all heroes. Be present in the moment and be happy no matter what."
Now based out of Los Angeles, Watson and her team could only communicate with Winchester through texts, calls and emails.
They worked as closely together as they could, separated by nearly 2,000 miles.
The process included "recording it here in Indiana and sending the stems [recordings] out to L.A.," Winchester said. "They take your part, download your stems, put their part on it and send it back to Indiana. There was very minimal phone conversation, mostly emails and texts."
Despite the challenges that came with recording a song from halfway across the country, the track was a hit in places all over the world.
On Spotify, the song was listed as "top trending" upon being released.
Winchester shares his story in hopes that everyone realizes they can chase their dreams, regardless of their circumstances.
"Life doesn't care where you live. It doesn't matter where you're from," Winchester said. "You can do anything you want to do. We put limitations on ourselves. Every day, every excuse is right there in front of you, you just have to choose not to buy into it. You have to put in the time; whether it's music, basketball, design work, makeup, anything."

https://www.tribstar.com/features/valley_life/terre-haute-musician-teams-up-with-classical-music-artist/article_55cf73f4-eb26-5d77-9114-f904f97b2c9f.html