Sturgis Festival of Trees brings in 46K | Local News
3 min read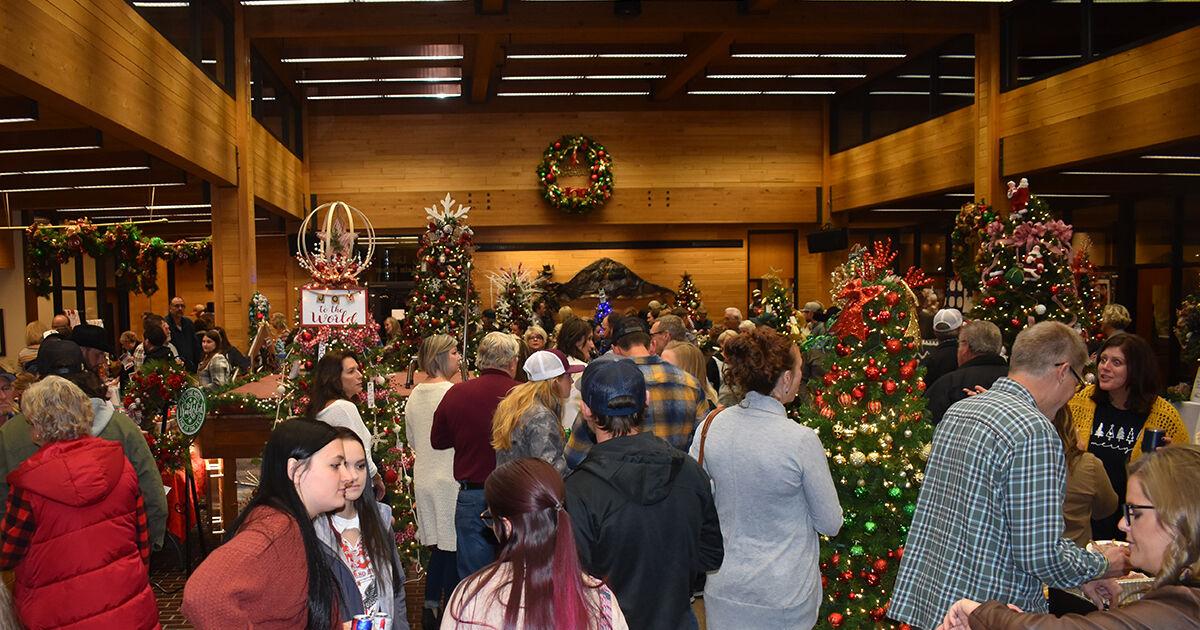 STURGIS — Organizers say nearly $46,000 has been raised through the 27th Annual Sturgis Festival of Trees.
The event, held Friday evening at First Interstate Bank in Sturgis, featured live and silent auction items. Last year's event was virtual because of the COVID-19 pandemic.
Still mindful of the pandemic, organizers featured only about half the normal number of trees at the auction, but offered more silent auction items.
Longtime organizer Rosemary Roth said in year's past, there have been more than 80 decorated trees on the auction block. This year there were 43.
"It was such a wonderful evening," Roth said. "Even though we had fewer trees, I think people were pleased there was a little more room to move around."
People's choice awards went to Ann Shaw of White Owl Creek Boutique for her tree titled "Joy to the World," and to Bonnie Jones of Designer Wreaths for her wreaths titled "Winter Wonderland," and "It's the Most Wonderful Time of the Year." The winner in the category for another Christmas item was Susie Payne and the Payne family for a decorated fireplace.
Since 1995, First Interstate Bank in Sturgis has hosted the Festival of Trees. Funds raised benefit both Hospice of the Northern Hills and the Greater Sturgis Area Fund. The $10 cost per person for admission will benefit the Sturgis Kiwanis Food Bank.
Roth said four people who have been longtime supporters of the event, who died within the past year, were remembered at the event Friday. They included Keith Smit, Jay Grubl, Jerry Weber and Steph Payne.
Roth was too emotional to read her sentiments about Smit, but wrote them down and had auctioneer, Adam Karrels, read her remembrances.
She wrote that Smit loved the Sturgis community, and that he and his wife, Ruth, had been supporters of the Sturgis Festival of Trees since the very beginning.
The family also hosts the annual Jeff Smit Memorial Track Meet for middle school students.
"This track meet continues to be one of the biggest, most successful middle school track meets in the area," Roth wrote. "He was a friend of the community. He made a difference. He made our town better."
Roth wrote that Grubl, a 1984 graduate of Sturgis Brown High School, supported not only the Sturgis Festival of Trees, but many other community organizations.
"He had a kind heart and a gentle spirit. He was an inspiration to all who knew him and were lucky enough to call him friend," she wrote. "His smile was infectious, and his generosity was beyond measure."
Roth said Payne was an enthusiastic soul who annually supported the Sturgis Festival of Trees.
"If you knew her, you knew without a doubt that she did everything to the fullest extent with fierce passion. We are honored to say that the Festival of Trees was one of her passions," Roth said.
Brett Lynass gave a tribute to Jerry Weber. He said Weber was not only neighbor to he and his wife, Karen, but also a friend.
Weber, who worked 33 years for the U.S. Postal Service, retiring as postmaster of Sturgis in 1992, was raised on a family farm on the east side of Sturgis and has long been known for his love of Christmas.
The Weber family hosts a light display on the farm at the end of Shephard Street in Sturgis. It started in the early 1980s, when Jerry and sister, Carol, made a larger-than-life lighted poinsettia.
"That one poinsettia has grown into an amazing and wonderful Christmas display now enjoyed by generations," Lynass said.
To read all of today's stories, Click here or call 642-2761 to subscribe to our e-edition or home delivery.
https://www.bhpioneer.com/local_news/sturgis-festival-of-trees-brings-in-46k/article_62129dec-4bbd-11ec-99cf-0f0f34ca2671.html