Stoughton natives return with 'Found Footage Festival' appearance | Community
5 min read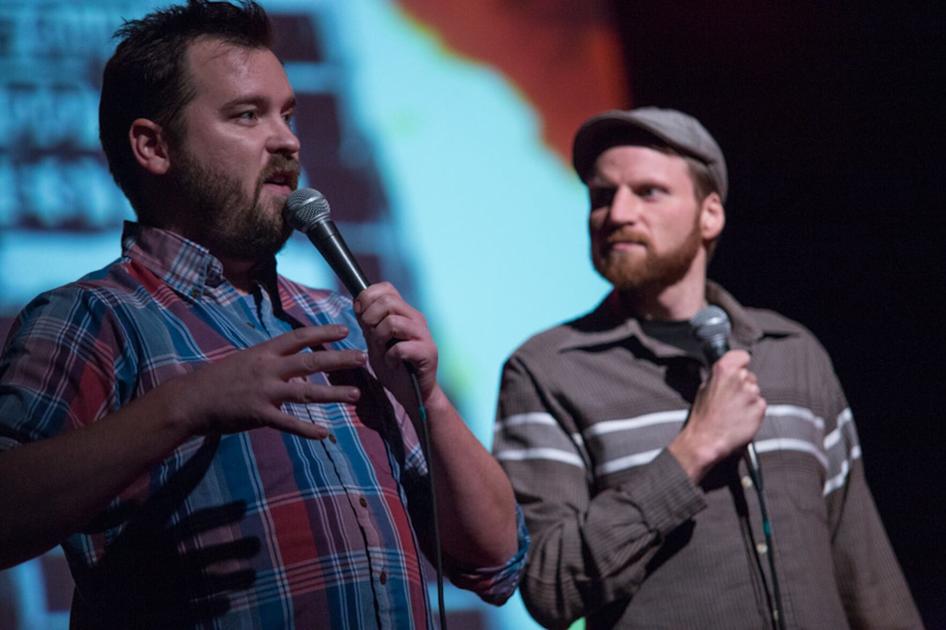 Celebrity outtakes range from a foul-mouthed Richard Simmons, film critics Siskel & Ebert getting into a fight, or a drunk Orson Welles attempting — with difficulty — to sell fine wine. Yes, whether it's some of the greatest news bloopers of the last 40 years of broadcasting, or some unearthed gem never meant for the public eye, you can expect the unexpected from Found Footage Festival.
FFF co-founders and Stoughton natives Joe Pickett and Nick Prueher return to the area with a new show, "Tape Trading Classics," at The Barrymore Theatre (2090 Atwood Ave., Madison) at 7:30 p.m. Saturday, Nov. 20.
There, the duo — described by Mashable as the "arbiters of awesome odd ephemera" — will provide commentary as they "blow the dust off dozens of pre-viral videos that made their way from weirdo to weirdo on dubbed tapes in the 90s and enter them into the canon as Tape Trading Classics," according to a FFF news release.
Tickets are $15 and are available at foundfootagefest.com/tour or at the theater box office.
The Found Footage Festival debuted in New York City in 2004 and has gone on to sell out hundreds of shows each year across the U.S., Canada and the UK. It has been featured on "The Tonight Show Starring Jimmy Fallon," "Jimmy Kimmel Live!," and National Public Radio and has been named a critics' pick in The Guardian and The New York Times. The FFF can be seen in their weekly YouTube series, "VCR Party Live!"
Pickett and Prueher began collecting found videotapes in 1991 after stumbling across a training video entitled, "Inside and Outside Custodial Duties," at a McDonald's. Since then, they have compiled the world's largest collection of strange, outrageous and profoundly stupid videos. Pickett is a contributing writer for The Onion, and Prueher is a former staffer at "The Colbert Report" and the "Late Show with David Letterman," and directed the award-winning documentary, "Dirty Country."
Q&A with Nick Prueher of Found Footage Festival
How/when did you two meet in Stoughton, and did you start your friendship doing similar mischief?
Joe and I met in 1987 in the halls of Stoughton Middle School. Our mutual friend Tom Jacobson knew I was a big fan of Pee-Wee Herman and Joe was too, so he made the introduction. I think the next Friday we had a slumber party at Tom's farm by Coachman's, and in the morning we watched a lot of bad television and had a running commentary of jokes. Our favorite bad show was "Small Wonder," about a robot little girl, and when we went back to school and told everyone how wonderfully terrible it was, they all said, "Terrible? We love that show!" So even though Joe and I didn't excel academically, we were very advanced in irony at an early age. That's been the basis of our friendship and professional relationship for 34 years now. And we still occasionally watch "Small Wonder."
How many VHS tapes do you currently own and what are your current collection methods?
At last count, we had 11,817 tapes lining the walls of our office in Brooklyn (N.Y.), but new boxes of videos arrive everyday from people who know we're the guys who collect videotapes. That's been really helpful since we haven't traveled much during the pandemic. Our normal way to collect new tapes is to spend a lot of time at thrift stores like Goodwill and the Salvation Army while we're on tour, so by the end of the year we've found hundreds of new videos for the next year's show. Since we started a YouTube show, fans from all over the world send us videos and that's really helped the collection grow.
What are your top 5 all-time "Unusually Specific" videos?
This category occupies many shelves in our office … "special interest" tapes like exercise videos, training videos, and home movies. The litmus test for us is, was this meant to be seen in public? If not, we love showing it in public, especially on a big screen.
5. How To Spot Counterfeit Beanie Babies
4. Telepathic Communication with Animals
3. How To Hand-Feed Hummingbirds
2. Identifying Machine Made Marbles
1. How To Meet Women In St. Louis
If there is a VHS Comedy Mother Lode, is it instructional work videos?
We do love workplace training videos because they always try to get cute with the framing devices for the instruction. Imagine you're a freshman at Stoughton High School, you've just been hired at McDonald's, and you're sitting in a break room watching a video where the trainer tells the custodial trainee that if he cleans the bathrooms extra well, he could one day see the mythical "Mc C." It's corporate indoctrination at its most insulting! But that's why we love training videos. These are huge corporations with every resource at their disposal, and they're making insultingly dumb high school drama productions.
Based on your footage, who would have won in a street fight – Siskel or Ebert, and why?
I'm going with Gene Siskel based on his height and arm reach, but Ebert definitely wins the caustic sarcasm award. His passive aggressive comments in the outtakes we found from "At The Movies" are biting, but Siskel holds his own and gets the last laugh at the end. When we watch these longtime colleagues bickering between takes, we see a lot of ourselves in them. I'm definitely the Ebert in the Found Footage Festival duo.
You've probably watched more hours of VHS tapes than most humans in history — what's the biggest takeaway? Any insight into humanity, or at least latter 20th century-ish humanity?
We've got big, dumb ideas and are willing to record them for posterity no matter how little expertise, know-how or self awareness we possess. It's the American way!
In this latest incarnation of FFF, what's in store for the folks who come out to check out the show on Nov. 20?
In the days before YouTube, there was a whole network of video collector weirdos that we were a part of, and we'd trade our best stuff on VHS compilations that got worse and worse in quality every time we dubbed a copy. Many of these videos never found their way on the internet but we feel they deserve to be inducted into the "Tape Trading" hall of fame. That's what this show is about: footage you've never seen taking its rightful place in history.
You both obviously have a particular set of skills – what's the next step – is there a final frontier for FFF?
Our weekly YouTube show, VCR Party, is our newest endeavor and it's continuing to evolve and grow. We've been able to have great guests like David Cross, Jo Firestone and Kyle Mooney on the show to talk about their VHS memories and comment on our latest video finds. Joe and I even tracked down and met the guy who played the custodian in that McDonald's training video I found in Stoughton way back in 1991! He was a nice guy and dressed up as the janitor on the show. Dreams do come true. Apart from that, I think a Found Footage Festival-based theme park in Orlando is the next logical step.
https://www.stoughtonnews.com/news/community/stoughton-natives-return-with-found-footage-festival-appearance/article_6ccf4324-4655-11ec-bac7-93dd63458b3b.html