One-of-a-kind painting experience comes to Mainstreet Hopkins | Eden Prairie
4 min read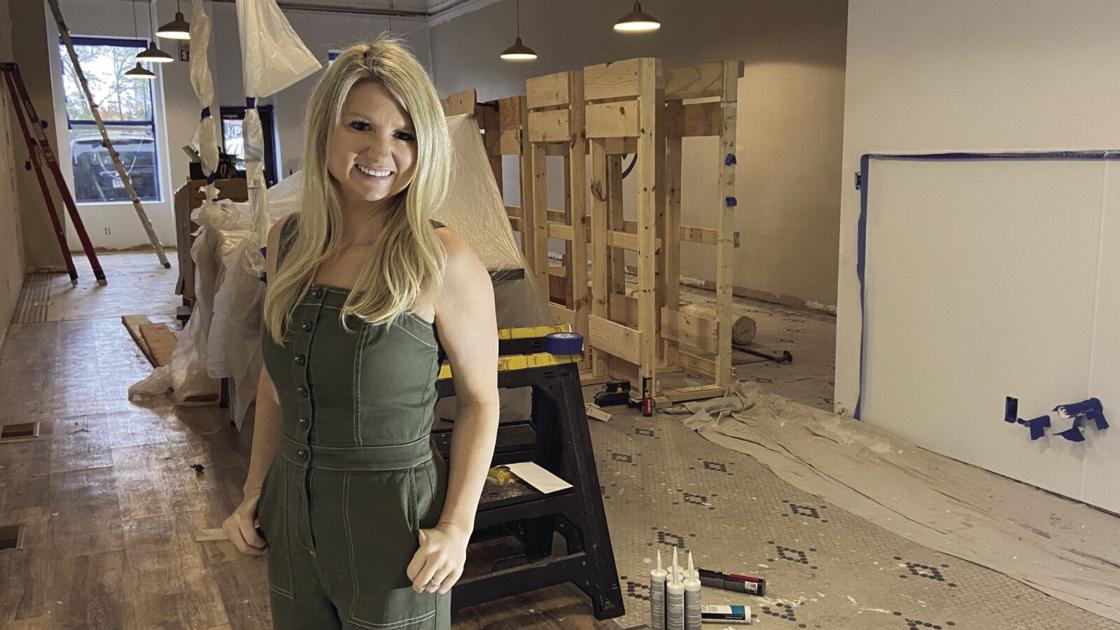 Downtown Hopkins has a new experience-based venue, where creative people of all ages can have fun making a mess.
The Mess Hall Art Experiences will officially open Nov. 6 at 906 Mainstreet, Hopkins, at the former Projects In Person location.
The concept has been a labor of love for Alexandra "Zan" Starr of Minneapolis, who searched the state for something just like this for her family.
Every year, Starr tries to plan something "really fun and crazy" for her husband, Steve's birthday in January.
Whether it was a scavenger hunt or a theme night with friends, she always tried to make it creative and memorable during a time of the year when many people are searching for things to do indoors.
In the midst of a pandemic, Starr found herself having to do something very different – something more private – since the couple couldn't have friends over or do any large social gatherings.
"So I was watching TV one day and saw paint-throwing on 'The Bachelorette,' and then I was like, that's exactly what I want to do with my husband," she said, describing a date on the reality TV show in which the couple created abstract art on a large canvas while covered in paint.
She began researching online for abstract painting venues, and found "tons of stuff kids, but nothing for adults."
"How is this not in Minneapolis? Should I start this?" Starr wondered.
As a mother of two with a full-time job, Starr didn't think she could take on a business start-up.
"But then it kept pulling me," she said.
And the ideas kept coming to her.
She even thought about how much fun her children have playing with messy things, like slime and sand, and how nice it to would be to have a designated space where they could have fun without wrecking the carpet.
"That's why we call it the Mess Hall – it's not just art, but fun activities that make a mess," she said.
The mission behind Mess Hall Art Experiences is to "provide creative souls of all ages an opportunity to explore and learn art techniques in a fun, playful environment."
"This is different than your traditional wine and paint experience," Starr said, describing what was involved in each of the sessions, ranging from 45 minutes for kids to an hour-and-a-half for adults.
Messy Jessy is for 4-12 year olds and features a monthly seasonal activity with a sensory table, along with open access to the studio for finger painting or splatter painting. There are also optional activities including spin-art, sand-art, slime, or tie-dye.
Teen Time is for ages 12-17 to experience art techniques, including splatter paint, pendulum swing, and acrylic pours, much like Splat for the adults.
Messy Love is a session for couples, that includes a couples painting competition, a large Twister competition and sensual art where couples can paint their favorite parts of their partner.
"It's kind of what you make it," she said. "You can be as interactive with others or as private as you want."
They also have space for corporate events, bachelorette parties, birthday parties, etc.
Everyone is given a 16-foot-by-20-foot canvas to create their art to take home, along with disposable protective gear including poncho, goggles, gloves and foot coverings – or they can come paint-ready with their own gear.
Helping her run the creative side of the operation is her friend and the general manager, Joey Kearney.
"Joey really helps with more of that true artist's side," she said.
Starr said she is also extremely happy to be joining the Hopkins business community, having found a space previously used as an experience-based workshop. Projects In Person closed last December, with the owners citing the uncertainty created by the pandemic.
"The space was perfect," Starr said, describing the high ceilings and open concept – all of which are conducive for making a mess.
Guests can also enjoy "poor artist" drinks in a can, such as beer, wine, seltzers, and an assortment of non-alcoholic beverages as well, in addition to snacks.
Mess Hall is hosting a grand opening 12-3 p.m. Nov. 6 where guests can help put some color on the walls by painting in the mural designed Juxtaposition, enjoy food created Paella Depot, and participate in other activities like balloon art darts, cake walk and face-painting.
They are also in the process of hiring creative people to be a part of their team.
Copyright © 2021 at Sun Newspapers. Digital dissemination of this content without prior written consent is a violation of federal law and may be subject to legal action.
https://www.hometownsource.com/sun_sailor/community/eden_prairie/one-of-a-kind-painting-experience-comes-to-mainstreet-hopkins/article_9c07f7aa-35f0-11ec-b3bb-8f33252b9f0d.html