On Point | Behind the scenes: Student's story of painting windows for the holidays | News
3 min read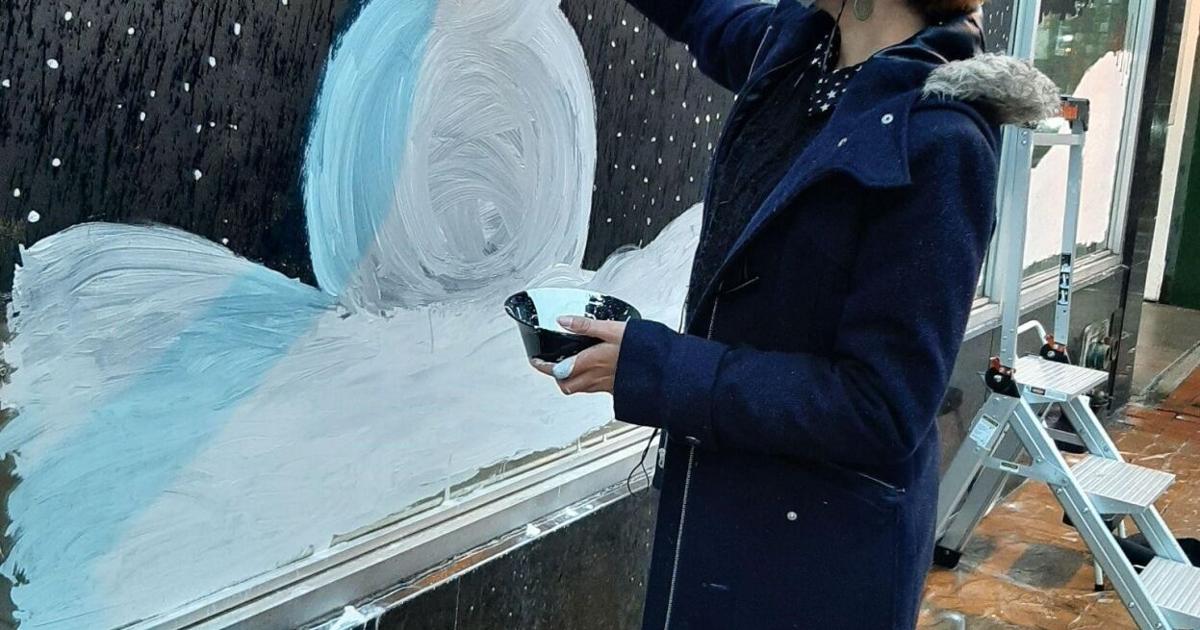 JOHNSTOWN, Pa. – Brazen gusts of wind rolling in chilled, festive air always seems to be the scene of downtown Johnstown in the fall and winter months.
The leaves have sunk beneath the trees to bury the pavement in a blanket of warm reds, browns and yellows; perhaps, even as the weeks ebb forward, these leaves will find themselves sprinkled in a dusting of sparkling ice and snow.
Downtown Johnstown offers a scene that is an indisputable show of the holidays.
And, just like years past, local teens painted store windows to match.
Window painting has been something that several schools, including Greater Johnstown High School, have contributed to our downtown for a long time – a tradition that will most likely continue long after my fast-approaching graduation.
Maybe it's the opportunity for giving that inspires students to develop ideas and see them come to life on the streets of our town.
When my art teacher comes to us about the call, she always gives us time to brainstorm in class. It would be an incredibly difficult thing to do – painting from scratch.
The days leading up to the painting are consumed with intervals of brainstorming, sketching and consulting with our classmates.
As we haul our supplies to the location – the window soon to be our canvas – we eye each window with a scrutinizing notion.
The question is just rhetorical, until someone motions toward the array and asks, "Which window do we want to pick?"
On average, the sentiment takes more than a moment of deliberation. A peer should suggest one closer to the corner, while another nods toward a more centered option.
As a group, we carefully consider each window; and eventually, we compromise on a decision and begin ushering in some of our tools.
The paint we use – tempera paint – is easy to remove from the windows, and we bring crayons, sponges, bowls, paintbrushes, and large, white sheets of paper that a pair of students must hold.
The windows are big, and just the day before, we had taken the final ideas for our painting and traced the designs onto the sheets of paper with thick, black Crayola markers.
With the help of the projector, it becomes quick work and now presently finds itself taped firmly against the inside of the window, to become the template of the soon-encroaching final product.
Despite working in pairs, the project will run through an entire school day.
Paintbrushes and paper are our chisels to the metaphorical stones. I grab a tapered brush, while someone else bends down to welcome a textured sponge to their artillery.
Beneath our knees and shins, lying in a box at our feet, is a tower of multicolored plastic bowls. If I grab a bowl, I can count on my classmate to reach forward and help me pour in the paint.
If someone struggles on a ladder, awkwardly reaching to paint a bare corner of a canvas, he or she can count on the others and me to take whatever is needed from their hands to make an easy descent back to the sidewalk. Feeling pressured to stay or overexert yourself, if some may suspect, is non-existent, and for the moment, the group works as a diligent unit; it's good like that.
Finishing is always a very special feeling.
Supplies carefully tucked away and spotless from scrubbing, paper template rolled into a tube and set against a wall, discarded for the time being, I and the others take a careful step back for a final look.
In less than a day, we had transformed the windows into a scene befitting the holiday – Christmas.
It's a mirthful feeling that follows each of us back to the school building, supplies in arm, as we clamor up the stairwell to greet the last few minutes of class, and soon, the latter half of our day at home, anticipating the next holiday when the process begins again. 
Ja'lynn Vaughn is a senior at Greater Johnstown High School.
On Point is a student-led journalism program through The Tribune-Democrat. Area students interested in participating should call 814-532-5091.

https://www.tribdem.com/news/on-point-behind-the-scenes-students-story-of-painting-windows-for-the-holidays/article_d33eb2d6-59bd-11ec-8928-67c961b5e624.html