New logo unveiled for Arts & Entertainment District of Oakland | News
4 min read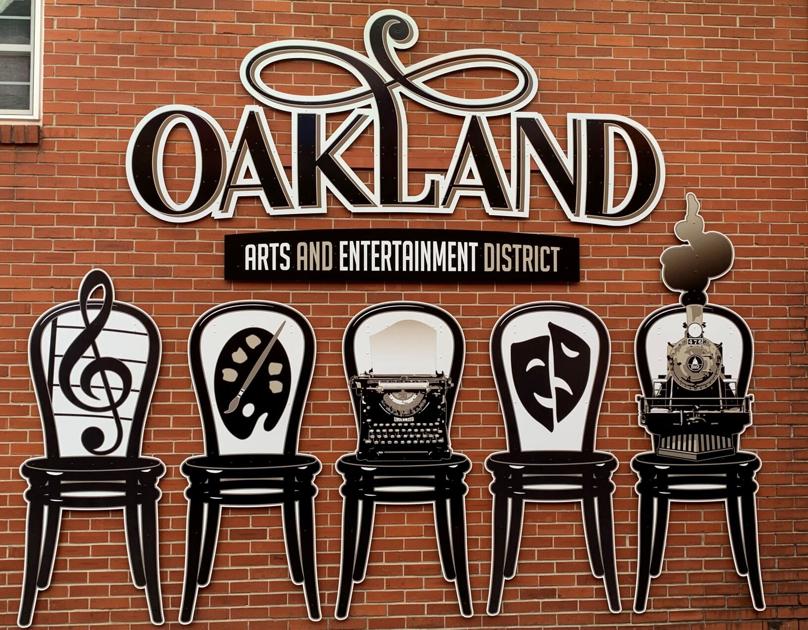 OAKLAND — The official new logo for the Arts & Entertainment District of Oakland was unveiled Friday.
It includes five chairs that represent the different components of the district: music, art, literature, theater and heritage arts.
Spectators gathered at the intersection of Bankers' Alley and Second Street for a short ceremony.
The group was welcomed by Mary Sincell McEwen, coordinator of the district, who noted that it is a program of the Maryland State Arts Council designed to support, celebrate and promote the arts in a designated area.
"We're really lucky in Garrett County that we have two districts: one here, and one in beautiful Grantsville," she said.
McEwen pointed out that artists living within these districts are eligible for some special tax incentives and benefits. Efforts to create exhibits, plays, concerts and public art are eligible for support.
"Today's unveiling of our beautiful new logo is part of our effort to raise public awareness and understanding of how cool it is to have an A&E District right here in Oakland," McEwen said.
Oakland Mayor Jay Moyer also addressed the group, noting the amount of work involved.
"There have been a lot of people involved in making this all happen, and it's been a collaborative effort between the town of Oakland and GOBA and the Main Street people to make this a success," he said. "We have a lot of people who have worked together to make this happen."
Moyer stated that the town of Oakland is very fortunate to have some of the things that are available, including Our Town Theatre. He mentioned the late Jane Avery, noting the work that she put into that project.
"We miss Jane," he said. "She was a great person, was a very active person and a very dedicated person. But her legacy lives on through the Our Town Theatre. We miss her, but all the good folks who were involved in that will keep her legacy moving forward."
County Commissioner Paul Edwards also addressed the group, noting that the commissioners are very dedicated to the arts in Garrett County and particularly the A&E District.
"This is a great day for me personally," he said. "About a decade ago, I was the mayor of Grantsville and I was having lunch with then arts council director Karen Reckner and we were talking about the opportunity that the arts provided for economic development, especially in small towns, and that sparked a conversation about trying to look at the possible designation of Grantsville as an A&E district."
McEwen noted that the advisory board "worked quite a long time trying to figure out what our logo could be and we were assisted hugely by the extremely talented graphic artist Laura Stutzman."
She stated that the group is really happy with the innovative design that will lend itself to some great marketing and branding. Pole banners have been created, and more items are in the works to connect everything together.
"Through our new logo, we're inviting everyone to take a seat," McEwen said. "We're inviting everybody to have a seat. Welcome to the county seat."
Volunteers involved in the arts in the community helped to reveal each portion of the new logo.
The music portion was revealed by Patrick Franc and Judy Bertch.
McEwen noted that Franc is the proprietor of Flipside Sounds and Sipside Lounge.
"His vinyl record store celebrates the history of recorded music every day, and his beautiful lounge promotes and supports local musicians every weekend," she said. "He is also one of a long line of musicians who made their mark in Garrett County."
Bertch is involved in the Garrett Choral Society, the Garrett Community Band and the choir at St. Mark's Lutheran Church. She plays the piano and keyboard and is a lifelong singer.
The visual art and local galleries portion was revealed by Rachel Precht, artist and manager of the Gallery Shop, and Dave Bruffy, photographer and owner of Smoke N Mirrors.
For the literature portion, writers Samantha Roller and Jack Spencer were chosen. Roller is in the Northern Garrett High School media department and on the Garrett County Arts Council board of directors. She is the "guiding force" for the council's literary journal, "Ginseng." Spencer is also a poet and often performs at Our Town Theatre.
The theater portion was revealed by Mikey Virts, director of Our Town Theatre, and Melody Hill, who has worked behind the scenes there since its inception.
The final piece of the logo represents heritage arts.
"The final unveiling component is celebrating the rich history of our A&E District, McEwen said. "We have a long and storied past in this town with arts and entertainment playing a huge role. Music has been composed here, novels written here, stage performances of theater and music and dance performed here for more than 150 years. The preservation of our history certainly creates the entertainment component of our district."
She spoke of the three museums in Oakland and introduced Terry Helbig and Colleen Nordeck, both members of the Oakland Town Council, which is in partnership with the arts council.
McEwen stated that Helbig is a native of the town and has worked for decades in preserving and celebrating its history.
"His dedication to the Oakland train station has helped make it a beautiful preserved landmark," she said.
He and Nordeck are also both members of the B&O Train Station Committee.
The ceremony began and ended with dance presentations from Brenda's Body Shop.
https://www.wvnews.com/garrettrepublican/news/new-logo-unveiled-for-arts-entertainment-district-of-oakland/article_63d1e0ac-310a-11ec-b8bc-b7e1d9ba0d01.html