Mountain Top to host musicians from the Sebago Long Lake Music Festival Nov. 11 | Outdoor Concerts
3 min read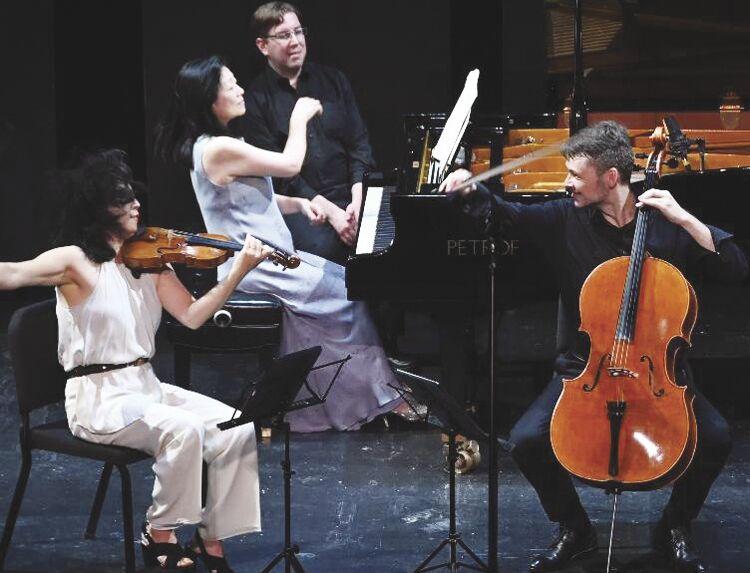 CONWAY — Mountain Top Music Center will be welcoming musicians of the Sebago Long Lake Music Festival to the Majestic Theatre on Thursday, Nov. 11.
The concert is part of the Majestic's Mainstage Series, and celebrates the recent 250th anniversary of Beethoven's birth.
Ludwig van Beethoven (1770-1827) is perhaps the most recognizable composer of the classical music genre.
The performance features two epic trios for piano, violin and cello: the "Ghost" Trio, so called for its mysterious, haunting second movement; and the "Archduke" Trio (Opus 97), named for its dedication to Archduke Rudolph and often cited as the crowning achievement of Beethoven's most productive compositional period.
The concert begins at 7:30 p.m. Attendees are also invited to attend a pre-concert conversation about Beethoven's music hosted by musicologist George Wiese, in the Majestic Café at 6:15 p.m. Proof of vaccination or a recent negative test is required, and masks are strongly recommended.
The Sebago Long Lake Music Festival, now in its 50th year, is a pillar of Western Maine's cultural scene.
The festival's world-class musicians, based at Deertrees theater in Harrison, Maine, perform multiple concerts each summer. In the summer of 2021, Sebago Long Lake Music Festival musicians recorded five concerts at the Majestic Theatre for online streaming.
The Nov. 11 Beethoven concert marks the Sebago Long Lake Music Festival musicians' first visit to the region at a time when the festival is not in session, and their first time in Conway with an in-person audience.
"This is exactly what we envisioned when we set out to renovate the Majestic Theatre," Mountain Top Executive Director Wiese said. "We've built a concert venue that attracts internationally distinguished musicians to our community, creating accessible opportunities for our students, locals, and visitors to hear great music played by extraordinary musicians."
Sebago Long Lake Music Festival president Barbara Graustein shares Wiese's enthusiasm, noting that, "Partnering with Mountain Top at the Majestic is expanding the reach of our festival in new, creative ways."
The extraordinary musicians on the Majestic stage will be violinist Min-Young Kim, cellist Mihai Marica, and Sebago Long Lake Music Festival's artistic director, pianist Mihae Lee.
Kim has toured extensively as a member of ensembles including Orpheus Chamber Orchestra and American Chamber Players; she is a graduate of Harvard University and the Juilliard School, and is professor of violin at the University of Pennsylvania.
Marica is a member of the Chamber Music Society of Lincoln Center (NYC) and has performed with orchestras worldwide; he is a distinguished winner of numerous competitions and has performed solo recitals across three continents.
Lee's career as a soloist and chamber musician began with her professional debut at age 14 in South Korea. She has performed recitals at Carnegie Hall (NYC), Jordan Hall (Boston), and Lincoln Center (NYC), and been a soloist with orchestras in the United State, Europe, and Asia. She is a member of the Boston Chamber Music Society, and currently serves as Artistic Director of SLLMF as well as the Essex (Conn.) Winter Series.
The Majestic Mainstage Series is produced by Mountain Top Music Center and strives to bring high-quality, diverse musical programming to the Majestic Theatre in Conway year-round.
Go to mountaintopmusic.org for more information. If you are interested in sponsorship opportunities for Majestic Mainstage performances, call (603) 447-4737.
https://www.conwaydailysun.com/things_to_do/music/concerts/mountain-top-to-host-musicians-from-the-sebago-long-lake-music-festival-nov-11/article_c52ea944-3d93-11ec-a04a-7319d21e19dd.html