Local artist Michael Hall's work on display at art center; Reception set for Saturday | Local News
4 min read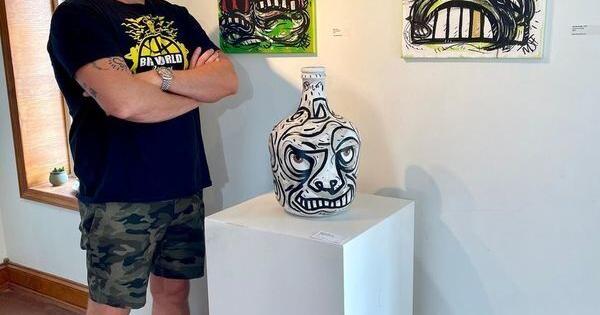 WILLIAMSBURG—The Whitley County Cooperative Extension Community Art Center will be celebrating the work of local artist Michael Hall this weekend with an artist reception after his art has been on display at the center over the past month.
Hall is a self-taught artist who was born and raised in Eastern Kentucky, moving to Corbin in the early 1990s and graduating as a Corbin Redhound. Following high school, Hall joined the Army where he spent four years in Texas, stationed at Ft. Hood before moving back to Corbin.
Today, the 42-year-old lives in Corbin with his wife, daughter, stepson, two dogs and two cats, and he works for the Department of Labor, while doing art in his free time.
Hall said some of his earliest memories were of him drawing, he said as early as kindergarten.
"As a kid, I mostly drew the stuff I liked," he said. "I drew a lot of He-Man and Teenage Mutant Ninja Turtles stuff. I've always loved wrestling too, so I drew Hulk Hogan a lot. I remember making my own NWA title belt out of cardboard with the help of my dad. Hulk was easier to draw because he had this unique look, but Ric Flair was always my favorite. I guess I have just always made art. When I was a teenager I wanted to draw comics, but kind of grew out of that when I stopped collecting them."
While in the Army, Hall began drawing company logos and T-shirt designs after his first sergeant found out Hall could draw.
"I painted all the company signs when we were stationed in Bosnia," he said. "I also designed a challenge coin. He had me draw cartoons for the company newsletter, poking fun at some of the goofy things that we experienced while in Bosnia."
Following his career in the military, Hall said he didn't make a lot of art, as he was more focused on getting settled in and finding a job but once he did get back into art, he didn't want to stop.
"Once I started doing art again, it slowly transitioned from realism into what it is now, which is more abstract cubism with a little street art flair, I guess you'd say," Hall said.
"To quote a line from one of my favorite movies, my art is, 'like Sputnik; spherical, but quite pointy at parts,'" he added, saying his art today is a lot of "weird faces" and shapes. "It just happens without much brainstorming. I tend to work quickly because I can't keep my focus for too long and I grow bored with things pretty fast. I can usually tell within the first few minutes if the piece I start working on is destined for the trash can or if it will be something I can make something out of. Sometimes I'll get pretty excited over something and work on it over multiple days, but that's very rare. I prefer to make it and move on to something else."
Hall has had his art displayed in galleries and bars in San Diego, California and Las Vegas, Nevada alongside artists from all over the world.
"I never got to attend the shows in person, but was able to get my work in front of eyes that probably wouldn't have seen it otherwise, and make a little money in the process," Hall said, adding that he also was a part of an '80s themed show in Lexington a few years ago where he did a "Blade Runner" inspired piece. He said he'd love for a local business owner turn him loose on a wall somewhere to "make some weird art happen."
Hall said he had reached out to the extension office about possibly having his work put on display in the art center.
"Shoot your shot, right?" he said.
Hall's art show was originally supposed to take place in April of last year but had to be canceled and was rescheduled for this month, where Hall said he has a varying selection of pieces on display at the art center.
"You will see a mix of works that cover my art journey over the last few years," he said. "I have some of my older ink and watercolor drawings on display. I have a few canvases in the show. I much prefer to work on paper than canvas, but it's good to mix things around. You will also see some of the more recent stuff I've worked on, such as the bigger works on paper. Those were fun to do. Bigger is where I think my current style really works the best."
Hall's artist reception will take place on Saturday at the Whitley County Cooperative Extension Community Art Center located at 428 Main Street in downtown Williamsburg from 6 p.m. to 8 p.m. The community is invited to attend the free event to view Hall's work, as well as enjoy live music, refreshments and a "live art" demonstration beginning at 7 p.m. Hall's art will also be available to purchase.
For more information, call 606-549-7373 or visit the Whitley County Cooperative Extension – Fine Arts Facebook page.

https://www.thetimestribune.com/news/local_news/local-artist-michael-halls-work-on-display-at-art-center-reception-set-for-saturday/article_b076a56e-2d13-5f6e-954e-a58cf391c022.html