Kindred spirits paint together, exhibit together | Local News
3 min read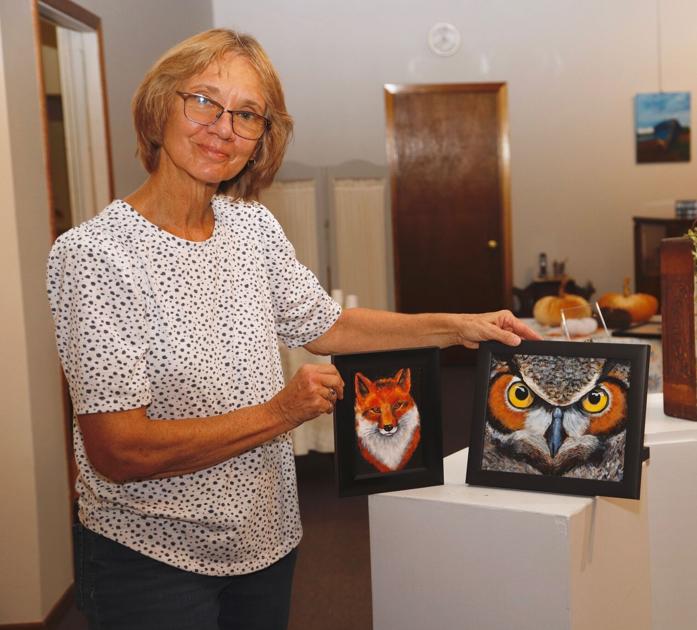 CLINTON — Four friends from Carroll County, Illinois, as Kindred Spirit Painters, will exhibit their art at Clinton's River Arts Center through Nov. 6.
The friends paint together weekly, but have never exhibited together before, they said.
Colleen Schroeder is displaying acrylics, watercolors and photography. She has been painting for about 30 years. "But it was on the back burner until I retired."
Most of their work is for their own enjoyment, said Schroeder. They don't normally sell or display the work.
"We all started as interested in art from an early age," said Sheila Wyeth. "We were brought together by the painting group." They worked together at Eastland School District near Lanark, Illinois, Wyeth said.
"I tend to paint wildlife and some flowers," said Schroeder. She does a variety of other forms and is now working on acrylic.
"I like to paint rustic things," said Wyeth. "I keep pushing to try new things.
The women usually paint from photos they've taken. Schroeder said she waits until a photo jumps out at her.
Wyeth said she doesn't produce a lot of work quickly. "I paint very slowly, and I layer."
Michele Horner will exhibit several media. "I've got watercolors, I have fiber art, and I also have shadow boxes," she said.
"I do a lot of photography," said Horner. Her paintings are based on photos she's taken. Horner has a degree in clothing and textiles and does quilting and various fiber arts. She's always experimenting and changing, she said.
Horner likes acrylic painting, she said, but six years ago began creating with watercolors. "I hadn't painted in years," she said, though she graduated with a minor in art from Western Illinois University in 1974.
When Horner sees something she wants to paint, she photographs it with her cell phone. She used to use an expensive Nikon camera, she said, but now she uses her Samsung.
"They have improved the quality. It looks every bit as good as my expensive Nikon. And they're easier to print off of," Horner said.
This is the first time the women have seen all of their pictures together, said Horner. "This is the first show we've ever done together," she said.
"We have found a real fellowship together as a group of artists," said Horner. The women encourage each other and offer suggestions.
COVID year was disappointing, said Horner. The women didn't meet to paint. "It was a hard year. And none of us painted in that time."
The fourth exhibitor, Delores Moll, is in her 80s and started her art career with oil painting, said Horner. "And she's wonderful. She's just a sweetheart," Horner said.
"And she has a style all her own, said Horner. Moll's paintings are free flowing while the other women are all about detail, Horner said.
Moll and her husband will be retiring to Florida, Horner lamented.
The Kindred Spirits exhibit can be seen at River Arts Center, 229 Fifth Ave. South in Clinton, from 1-4 p.m. Wednesday through Saturday. An artist's reception is set for 1 p.m. Sunday, Oct. 3.
The exhibit ends Nov. 6.

https://www.clintonherald.com/news/local_news/kindred-spirits-paint-together-exhibit-together/article_a130ff70-1b1e-11ec-ba63-177c91b260e6.html