How The Entertainment Law Initiative Tackles Today's Leading Law Issues & Fosters The Next Generation Of Legal Innovators
7 min read
An artist advocate. A devotee to making the American dream a reality for artists. A force of nature. The smartest woman in the room. All these statements describe Susan Genco, co-president of the Azoff Company, who received the top honor at the Recording Academy's 24th Annual Entertainment Law Initiative (ELI) event during GRAMMY Week 2022. With a focus on future voices and entertainment law education, the annual ELI gathering is the leading music industry and music law conference, aligning prominent entertainment attorneys to discuss and debate top-of-mind music industry legal matters and trends. Via its annual Entertainment Law Initiative Service Award and Entertainment Law Initiative Writing Contest, respectively, ELI celebrates influential thought leaders and next-gen student innovators alike, who are collectively advancing the conversation surrounding music law.
Held Saturday, April 2, at ARIA Resort & Casino in Las Vegas, ELI 2022 honored Genco with the Entertainment Law Initiative Service Award. She is a leader who has spent her storied career protecting artists while supporting the music community at-large through service. Advocacy and fair wages in the music industry are now more important than ever to crusaders like Genco, who has made substantial contributions on policy through the Music Modernization Act and federal COVID relief packages as well as her work as a board member for the Music Artists Coalition, which includes her ongoing work on the FAIR Act.
A lifelong music lover, Genco spent her college days as a DJ at Wellesley before heading to Harvard Law. After college, she held executive positions at a variety of record labels including Warner Bros. Records, Capitol/EMI and Arista Records, under Clive Davis. Now, as the co-president of the Azoff Company, working alongside Irving Azoff, she oversees and manages entertainment companies like Full Stop Management, Global Music Rights and Oak View Group, among others. Genco is a lecturer in law at UCLA School of Law, where she has taught music law since 2012 and is a founder of the school's Music Industry Clinic. She also serves on ELI's Executive Committee. 
At the pre-event reception, GRAMMY- and Oscar-winning writer, director and producer and ELI 2022 keynote speaker Cameron Crowe shared that Genco and Azoff run their business with an artist-forward mentality.
"When I first started writing and interviewing musicians, so many of them didn't make it financially or they weren't supported in the business they loved," he said. "Irving and Susan are so like-minded — they never forget what it is like to be an artist and you need protection and support, and know there are people there to back you up. She has been very forward about pushing legislation and showing budding artists [that] there are people out there thinking about you and your rights."
Filling the room with the magical storytelling for which he is known, Crowe then saluted Genco, the lawyers in attendance, and the students who participated in the ELI Writing Contest, saying that thanks to their work, the next generation of artists will have a greater chance at flourishing. "It's such an honor to be here for the ELI, who do such vital work in supporting and protecting the spirit of creativity for generations to come," he says.
Crowe then told the story of how he chose the music industry — or rather, how the music biz chose him — against his mother's wish for him to become a lawyer. "She moved us to a special place in Saen Diego, so that we would be right across the street from a well-regarded law school; I was 12," Crowe said. "As much as we tried to plan, so many of the key things in our life happened when there was no plan. Because it's the people you meet along the way, the people you helped, and the people who helped you. Relationships and music define my life. There was a growing chance I was never going to make it to the law school."
Then, Crowe met Azoff. "[Irving] became a person who really worked his way up the ladder, on the heels of smarts and charisma. And he hit that famous early peak: He became the manager of Eagles," Crowe said. 
Likewise, Crowe invested in relationships, which led him to chronicling the early days of Led Zeppelin, David Bowie, Bruce Springsteen, and many others as the youngest-ever contributor to Rolling Stone.
"When people ask who the band was in Almost Famous," he says of his beloved 2000 film, "it is all of us. It is Irving and Ronnie Van Zant, Glenn Frey, Neal Preston, and the people who inspired Susan Genco back when she was a DJ, with the same dream of being close to the music that she still loves so passionately."
Azoff then gave a humorous and irreverent recap of how Genco came to work for his company years ago, telling her back then for years that their quota for lawyers was full when, in fact, they had no entertainment lawyers on staff. 
Cameron Crowe delivers keynote speech at the Recording Academy's 24th Annual Entertainment Law Initiative
"If you want to cross over from the double dark side of being a lawyer and running a record company and join the fight to take care of artists — you're smart and we'd love to have you as a senior executive," Azoff remembered of her job offer. "So our journey became partners and colleagues instead of just friendly adversaries."
Applauding her accomplishments, Azoff heralded Genco as an advocate in the music industry and wider music community. 
"Susan has been a tireless advocate for visibility and rights for the LGBTQ+ community, for change in action in economic and social justice for women with her XX Fund and with Liberty Hill, and for community engagement through her position on the board of [Los Angeles radio station] KCRW. She is also a mentor to many young professionals including many in the room today. You're an amazing wife, mother, friend, executive, and world citizen. There really is no one like you. They invented the word 'special' to define who you are."
In her acceptance speech, Genco reflected on the moments that shaped her musical journey. 
"The best moments of my life are created by artists and enhanced by music," she remembered. "It's this shared love that brings us together and makes us, the people in this room, the people in the industry, a community. 
"I have always loved music. But now after a couple or a few decades, I also love the music business, with all of its foibles and idiosyncrasies," she continued. "Music unites people across the globe every day. And in this divisive world we find ourselves in, we rely on music to reach across borders and create a common language. As a community, I hope we can work together to support and protect artists and songwriters … They give us the gift of music. Let's make sure we give them what they need and what they deserve. Let's be sure that they get their fair share, and let's please do it together."
Prior to the ELI event, Genco told GRAMMY.com that advocacy is now more important than ever, and that advocacy efforts start with the artists and extend to those with whom they choose to surround themselves.
"Be bold and advocate for yourself. You see more and more artists speaking up," she said. "Artists deserve to be paid. It feels like now we are in a place where it's feast or famine for artists. And we're missing out on a lot of talent. If we don't cultivate and create a way for artists — not just the superstar artists, but our middle-class artists [also] — to make a living off their craft, we're all going to suffer."
Genco, who teaches at UCLA Law, has been involved in the ELI student program since 2011 and says working with students is one of the most important aspects in her career. Every year, she serves as a reader for the annual Entertainment Law Initiative Writing Contest, which challenges aspiring law students seeking to push the envelope in the music industry to identify and research a current legal issue and outline a proposed solution in an essay. 
At the 2022 ELI event, the ELI Writing Contest recognized the winner with a $10,000 scholarship and a $2,500 scholarship for the two runners-up.
This year's ELI Writing Contest winner, Sona Sulakian, J.D. Candidate at USC Gould School of Law Los Angeles, tackled "Protecting the Artist: Licensing in an AI-Generated Music Market." Runners-up Chelsea Cohen, J.D. Candidate at Loyola Law School Los Angeles, delved into "Welcome to the Metaverse: Solving Old-World Licensing in a Whole New Universe," while Michael Harrigan, J.D. Candidate at Stetson University College of Law in Gulfport, Florida, tackled "Beyond a Reasonable Doubt: How Blockchain Technology Can Shift the DMCA's Burden of Notification Away From Copyright Owners."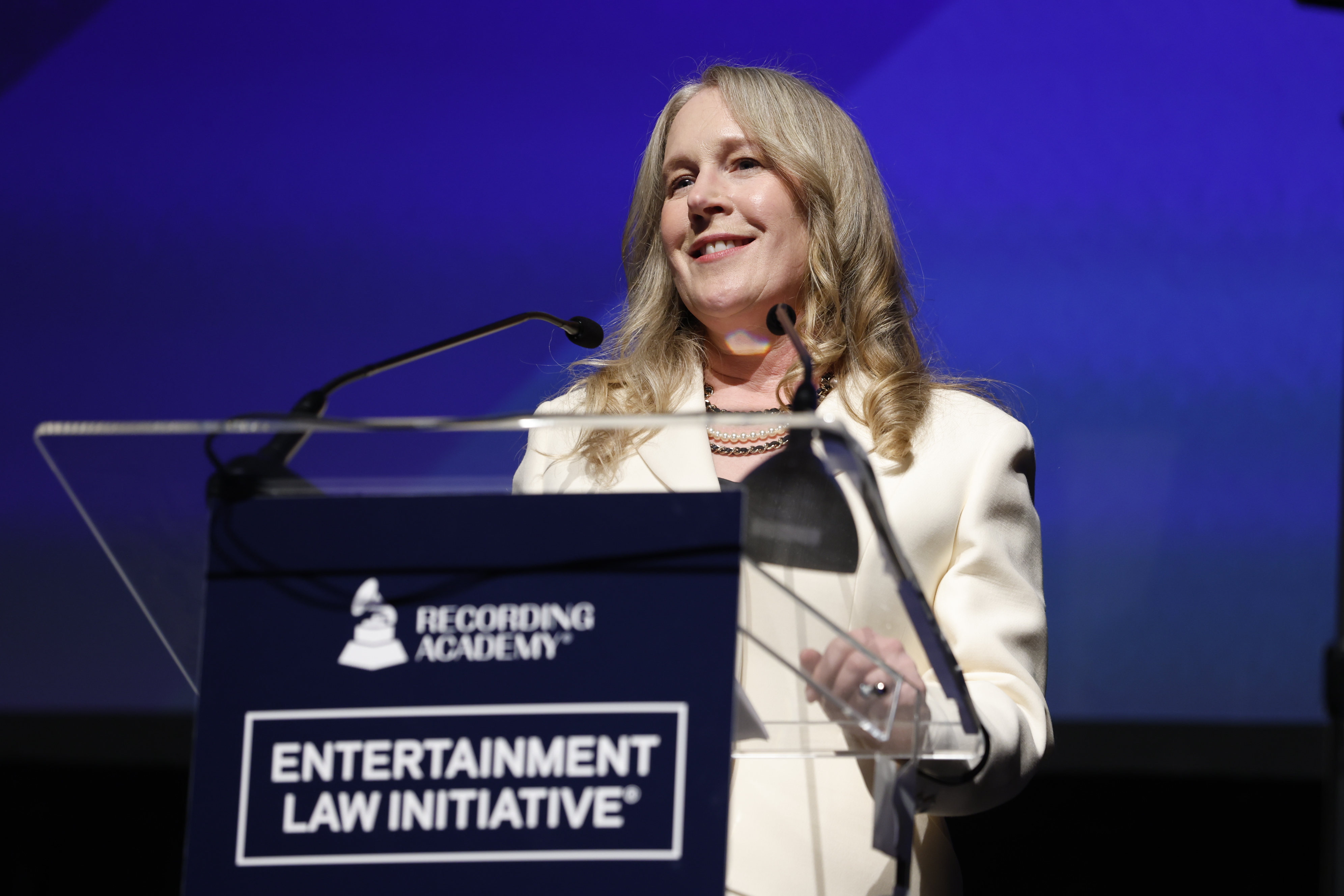 Susan Genco delivers espeech at the Recording Academy's 24th Annual Entertainment Law Initiative
"An important part [of ELI] to me is that we welcome the students who win the writing competition," Genco said. "Make sure, particularly as women, that we don't pull up the ladder behind us and [instead] welcome women into the business, which has been, for decades, very male-dominated."
Standing at the convergence of entertainment law and music business and culture, the Entertainment Law Initiative offers a unique perspective into the symbiotic relationships connecting these two industries. Genco best summed up this exchange of ideas in a simple yet impactful reflection. 
"The great news is [that] music is more important than ever," Genco said. "We just have to make sure the business side is right as well." 
The Recording Academy wishes to sincerely thank the following sponsors for their support of the 24th Annual ELI GRAMMY Week Event
PLATINUM: Full Stop Management; Global Music Rights; Latham & Watkins, LLP; Mitchell Silberberg & Knupp LLP; Pryor Cashman LLP; Sony Music Entertainment; Spotify; Universal Music Group
GOLD: Fox Rothschild LLP; Greenberg Traurig LLP; Proskauer Rose LLP; Warner Music Group
SILVER: American Bar Association (ABA); Covington & Burling LLP; Eisner, LLP; SoundExchange; Universal Music Group
BRONZE: AXEL Go; Black Music Action Coalition (BMAC); Boyarski Fritz LLP; King, Holmes, Paterno & Soriano, LLP; Kobalt Music Publishing; Manatt, Phelps & Phillips, LLP; Munger, Tolles & Olson LLP; Rothenberg, Mohr & Binder, LLP; SAG-AFTRA; Songwriters of North America (SONA); Sound Royalties
Watch: 23rd Annual Entertainment Law Initiative | GRAMMY Week 2021

https://www.grammy.com/news/entertainment-law-initiative-fosters-next-generation-legal-innovators