GALVESTON.COM: Call for Artists to Beautify a Bucket!
2 min read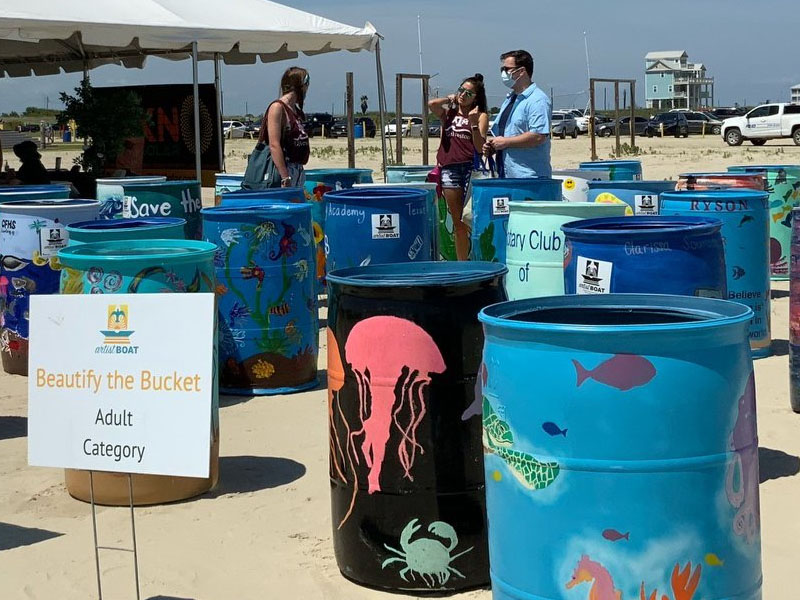 The Beautify the Bucket Competition allows participants to take an active role in beautifying Galveston Beaches and improving stewardship behaviors. Participants in the competition paint a blue trash barrel destined for Galveston Beaches based on a theme: ocean organisms, marine debris, coastal and marine ecosystems, or Galveston recreational activities. After the competition, the barrels will be added to Galveston's Beaches where they will be enjoyed by visitors and encourage proper disposal of trash to reduce aquatic trash.
Individuals and groups of all ages can register for a barrel to beautify. Help us keep our beaches clean and pristine! Registration is open until May 8, 2022.  To register, click here.
Entries are due by June 1, 2022.
Viewing and judging will be held on June 4th at East Beach during the World Ocean Day Festival. Winners will be announced at 12:00 pm.
World Ocean Day Festival – June 4, 2022
World Ocean Day is the UN-recognized day of ocean celebration and action.
All around the globe individuals and groups use the day to celebrate, learn about, and do their part to help the ocean. Local, regional, and state organizations will come together to provide engaging activities to help visitors understand the human connection to the ocean, and the 2022 theme is focusing on restoring the vibrancy and balance in the ocean.
This year is the first hybrid celebration of this annual event, being hosted both in-person and broadcast live. So feel free to tune in to see the UN celebration on June 8, 2022, and join us at the Galveston World Ocean Day Festival on East Beach on June 4, 2022.
Enjoy a fun and educational good time! Partner organizations will host interactive activities to help ocean-lovers of all ages learn about the marine world and how we connect to it.
Live Entertainment: Tom's Fun Band will perform music and comedy to make learning about preserving our natural resources fun. You will chant, clap, and sing along as you learn more about everyone's role in conservation.
Explore the Tent: There will be opportunities to sign up for a Bucket Brigade Beach Tour, check out the Beautify the Bucket competition on display for judging, register for an assortment of on-site workshops and MUCH MORE FUN!
Eco-Art Workshops: For the first time this year, there will be workshops you can take at the beach during the festival! Join us to build a clay coral reef, be part of a drum circle, turn trash into treasure with marine debris art, create your own screen print, and more!
To learn more, click here.