Gallery Artists Demonstrate Work | Features
3 min read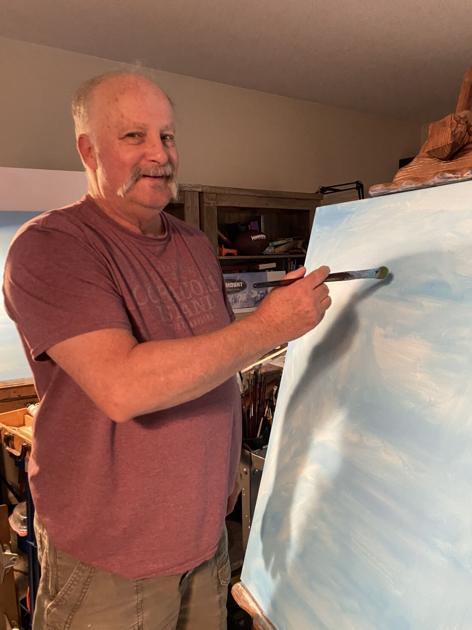 On Saturday, Nov. 13, six artists whose artwork is represented by One of a Kind Gallery, will be working in their various media for the public to see. The event will take place from 1 to 3 p.m. within the gallery as well as in the atrium of the Theatre Building (90 Cherokee Road, Pinehurst) in which the gallery is located. In addition to three painters, the artists will include a basket maker and two jewelry designers.
Artist Rich Flanegan, whose highly detailed seascapes and landscapes are familiar to Moore County's art aficionados, has often captured honors at the annual Fine Arts Festivals hosted by the Arts Council of Moore County. Flanagan and his artist wife, Diane, moved to Pinehurst in 2017, from their home/gallery/teaching-studio in Cape May, N.J. Of his work, Flanegan says his goal "is to capture a moment in time: a sky, a wave, a shadow, etc."
Betty Hendrix, whose artwork is also well-known to those in the area, moved to Moore County from Connecticut 34 years ago. She was then able to devote her time and energy to her artwork — and to the promotion of the arts in the area. She was one of the founding members of the Artists League of the Sandhills. Hendrix's favorite media are pastels and colored pencils, both of which she teaches at the Artists' League.
Crystal Laviner Hyatt, of Wagram, a small community about 20 miles south of Southern Pines is a full-time legal assistant, but manages to find time to devote to her real love: jewelry-making. After experimenting with a variety of jewelry media, she gradually focused on wire-wrapped jewelry. Hyatt often incorporates natural gemstones (moonstone, labradorite, and turquoise are her favorites) into her work. Once a piece is created, she says "It is not repeated, making each piece truly one-of-a-kind."
Painter Kathleen "Kathy" Leuck, of Pinehurst, is also well-known to area residents. Art and creativity have been essential elements in her life as long as she can remember. While in grade school, she was given a set of eight oil pastels and thought it was the best gift anyone could receive. In terms of subjects for her paintings, Leuck is most attracted to florals, still life, and abstract designs. She works with oil, acrylic, watercolor, and pastel — sometimes alone and sometimes together as she continues to experiment.
A ceramic jewelry designer among the line-up of working artists will be Sarah Peters. Peters grew up in Lincolnton, an area known for its pottery, and she started working in that medium in 1995. Over the years, she focused on the many aspects of working with clay and currently uses her knowledge and skills to create elegant jewelry. Each piece is hand-cut, glazed and fired, then completed with leather, stones, beads, silver or silk to create her unique wearable art.
Basket maker Bonnie Roberson has been weaving her beautiful baskets for about 35 years and has written and published many of her original basket patterns for almost that long. Roberson has cut back on her teaching obligations, so this event is a special day to see her in action.
Artists @ Work is open to the public; there is no charge for this opportunity to see and learn as real artistic professionals "do their thing."
https://www.thepilot.com/news/features/gallery-artists-demonstrate-work/article_b84a65c2-38ea-11ec-bd18-db7382ad6fba.html