Gallery Aferro Honors Gladys Barker Grauer with Legacy Art Auction & Celebration on November 6th
3 min read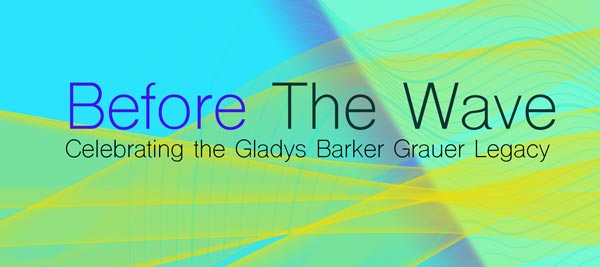 NEWS | FEATURES | PREVIEWS | EVENTS
originally published: 10/03/2021
(NEWARK, NJ) — Gallery Aferro is back with their first in-person art auction celebration since 2019, and it promises to be unlike any other. On November 6th from 7:00pm to 10:00pm, the oldest artist-run gallery in Newark will present "Before The Wave: Celebrating the Gladys Barker Grauer Legacy" to not only honor the memory, influence and passion of "The Mother of Newark Arts," but to also come together in a joyous gala for artists and art lovers to revel in music, dance, food, drinks and a little something extra.
This uniquely curated event will feature more than 20 works from Gladys Barker Grauer's estate, reflecting on both her love of life and her determination to be a rule-breaker and trailblazer. Expanding on the connection to her legacy, the auction will also feature works from artists influenced, inspired or mentored by Grauer throughout her 70-year career. "Before The Wave" tips its hat to Grauer's role in pursuing a life where creativity, equality and justice were inextricably intertwined before such a concept became a movement, a trend or a norm. 
Joining the showcase of works by Grauer and her admirers, the event will also include a video homage of her art with highlighted segments of past interviews, a tribute dance performance, remembrance speeches and anecdotes from friends, and a special gift for everyone to take home. 
Proceeds from the event will help Gallery Aferro to continue to sustain programs in alignment with Grauer's values and vision, such as the digital humanities project, The Prism Commissions; the historical retrospective series, Past & Power, featuring writing by and about women, art and radicalization; and the creation of www.gladysbarkergrauer.org, an educational microsite dedicated to sharing the nonagenarian's renowned reputation with students, artists, collectors, and more.  All tickets are $20 and are on sale now at www.aferro.org.
Described by The Geraldine R. Dodge Foundation as having an "expansive vision, impact in Newark as well as regionally and even internationally," Gallery Aferro comes from an idiomatic Portuguese word meaning bound or chained to an insane idea or an idea that is difficult to achieve. The gallery believes this high praise combined with their commitment to manifest the true meaning of "aferro" is what led Grauer to gift the alternative art space the privilege to act as curatorial liaison for her artwork in the wake of her passing. And through this one-time-only, major celebratory event, Gallery Aferro aims to honor her choice, her legacy and her spirit.
Advertise with New Jersey Stage for $50-$100 per month, click here for info
---
Gallery Aferro is located at 73 Market Street in Newark, New Jersey.  It is an artist-owned alternative arts space located in the heart of Newark, New Jersey's downtown district. Founded in 2003, it is home to two major public exhibition spaces in a 20,000 sq. ft. building at 73 Market Street, offering exhibitions, events, and a studio residency program available all year-round. The mission of Gallery Aferro is to function as a platform for the exchange of ideas in service of advancing human dignity and beauty, with a focus on visual arts as the vehicle, proudly located in Newark, NJ.
Advertise with New Jersey Stage for $50-$100 per month, click here for info
---
https://www.newjerseystage.com/articles/2021/10/03/gallery-aferro-honors-gladys-barker-grauer-with-legacy-art-auction-and-celebration-on-november-6th