Drug-Free Fall Festival draws kids and parents | Lifestyles
3 min read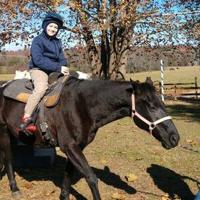 Saturday, Nov. 13, the Cumberland Prevention Coalition, in partnership with Standing Tall Life Skills Inc. and Wildwood Stables, held a Drug Free Fall Festival. As the recipient of a Drug Free Communities (DFC) grant, the goals of the CPC include establishing and strengthening collaboration among coalition members and community organizations to prevent and reduce substance use among youth and addressing the factors in a community that increase risk for substance use while promoting factors that minimize risk for substance abuse. The Standing Tall program promotes trust, friendships and fostering healthy relationships within their families and the community. It addresses the needs of youth who are experiencing social, emotional or physical challenges, empowering them with social and coping skills to incorporate in their daily lives.
The festival was planned as an opportunity to educate both kids and parents in drug use prevention. Coalition staff talked with kids about healthy activities and the dangers of drug use. They talked with parents about the availability and use of drugs by youth and how to talk to their kids about the harm drug use causes to the user, their family, and the community. Drug lockboxes and Narcan (Opioid Reversal Kits) were given out free of charge. 
"In a period of isolation and excessive screen viewing, having healthy, outdoor fun is a key part of raising drug-free kids. It was so nice to partner with Wildwood Stables and Standing Tall Life Skills to provide a day of fun activities for the children of Cumberland County and their families," said CPC director Bob Valerio.
Michelle Cannon, president of the Standing Tall Life Skills Program, said, "We were very excited to lend our support to the CPC event at Wildwood Stables. To watch and hear over 100 kids laugh and play while learning more about the effects of drugs on them and their families was very special. Their (CPC's) leadership in raising awareness of issues is vital to the well-being of our community. Jumping in a bounce house, riding a pony or painting a rock is a great way to leave a lasting impression on kids and their families, especially while eating a hot dog. The CPC has the secret formula: laugh, play, eat, and learn. Wildwood Stables and Standing Tall look forward to our continuing partnership with the CPC."
In addition to the CPC and Standing Tall Life Skills, Avalon Center and The Upper Cumberland Diversity Group had booths on site and spoke with attendees, giving out information on their programs. 
Activities for the kids included Turkey Walks with frozen turkeys being presented to the four winners, wagon rides, pony rides, dancing, bounce house, rock painting, corn hole, and a goat petting zoo. A photo booth provided the opportunity to snap a souvenir picture of the day. For the hungry, hot dogs, chips and soft drinks were available. A good time was had by all.
For more information about the Cumberland Prevention Coalition, visit the website at https://cumberlandpreservationcoalition.org.
This event was funded under a grant contract with the State of Tennessee Department of Mental Health and Substance Abuse Services.
https://www.crossville-chronicle.com/news/lifestyles/drug-free-fall-festival-draws-kids-and-parents/article_891c95aa-6413-11ec-98d1-9b7a2c0970cd.html