Celebrating best friends: Hindu dog festival Kukur Tihar comes to Sheridan | Local News
4 min read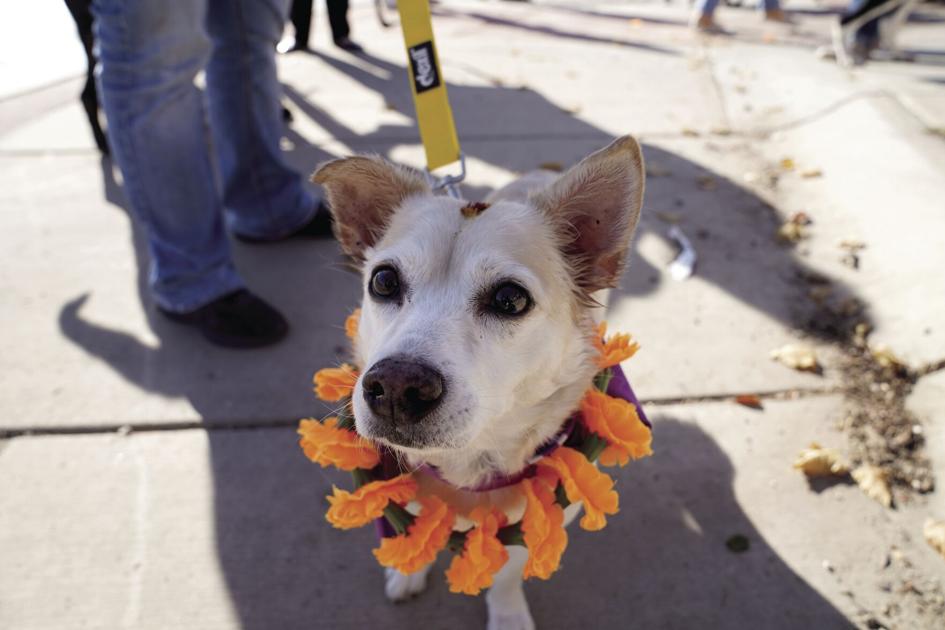 SHERIDAN — A line of dogs, leashed to their owners, formed in front of Little Kitchen restaurant Wednesday morning. The occasion: the Nepalese day of the dog, or Kukur Tihar. The dogs waited for humans to celebrate them. 
As each dog made its way to the front of the line, Little Kitchen Owner and Head Chef Thomas Jefferson, a native of Nepal, adorned the animal. He or the dog's owner would apply chandan — golden paste made from ground Indian sandalwood — and simrik — a plant-based crimson mixture — to the dog's forehead. Then, Jefferson scattered multicolored flower petals over the dog's body and tied a garland of artificial marigolds around the dog's neck. 
"Thank you so much for being a good friend," Jefferson said to one dog as he completed this ritual. 
Dogs were then treated to meals of meat and rice. In Nepal, Jefferson explained, it is customary to make the dog's favorite food, usually rice with lamb or chicken. Little Kitchen employees also circulated with bags of dog treats. 
Kukur Tihar is part of a five-day Hindu festival, called Tihar or Yama Panchak, celebrated in Nepal and Himalayan provinces in northeast India. As Jefferson explained before the crowd of dog owners, Tihar is a festival of lights celebrating the relationship between siblings and sacred animals, including crows, dogs, cows and bulls. 
These sacred animals and relationships maintain special significance in Hinduism, Jefferson said. Crows, for instance, are believed to be the link between the worlds of the living and the dead. By praying to and feeding crows on the first day of Tihar, celebrants honor deceased ancestors. According to Jefferson, cows and bulls are honored on days three and four of the holiday respectively as the sacred symbols of deities. Siblings gather on the last day of the festival to honor a clever sister in Hindu mythology who tricked a god into allowing her brother to live forever. 
Jefferson said dogs are celebrated on the second day of Tihar because, according to Hindu belief, they serve as ambassadors to Yama, god of death, and open the door to heaven. During Kukur Tihar celebrations in Nepal, Jefferson explained, it is customary to bathe dogs, offer their favorite foods, adorn them with chandan, simrik and marigolds, pray for their good health and thank them for loyal service all year. 
Sheridan's first Kukur Tihar celebration attracted visitors from several local organizations. 
Ambassadors from the Sheridan County Chamber of Commerce joined the event to honor their pets and Little Kitchen's Chamber membership. After Jefferson cut a thick red ribbon, finalizing his restaurant's initiation, Chamber Ambassador Morgan Irvine said she was excited about the introduction of a new culture, cuisine and religion into the Chamber of Commerce. 
For this year's celebration, Jefferson decorated the front of the restaurant with a mandala or rangoli, which are geometric, stylized designs constructed on a flat surface. 
During Tihar, these designs are intended to welcome Lakshmi, Hindu goddess of wealth and prosperity. According to legend, Lakshmi was once traveling in the middle of the night and needed to rest when she came upon a small town that, according to Jefferson, was not unlike Sheridan. Most turned the goddess away but one house — the home of a poor family — welcomed the goddess despite their limited circumstances. When the goddess continued her journey the next morning, she left behind riches for the poor family, rewarding their kindness and making them the wealthiest family in town. During Tihar, participants decorate their households with vibrant marigold decorations to entice Lakshmi to visit. 
Although most Tihar mandalas or rangolis are decorated with colorful flower petals or powdered pigments, Jefferson constructed his rangoli from plants native to Sheridan. Jefferson carefully arranged pine needles, flaked pinecones and dried birch leaves into a geometric design to celebrate Sheridan's first Tihar.  
Representatives from the Dog and Cat Shelter of Sheridan County were also present for the festival. Volunteer Coordinator Kristian Skillman explained, after receiving an invitation to the event from Jefferson, the shelter brought seven of their adoptable dogs to be honored in the Kukur Tihar ceremony.  
Jefferson hopes to expand Little Kitchen's Tihar celebrations next year. He has plans to work with the Wyoming Tourism Board and Chamber of Commerce to celebrate the fifth day of Tihar with a sibling festival next year. Dog and Cat Shelter Executive Director Jill Moriarty said Jefferson offered to partner with the shelter in 2022 for the second annual Sheridan Kukur Tihar celebration and a fundraiser for shelter pets.
https://www.thesheridanpress.com/news/local/celebrating-best-friends-hindu-dog-festival-kukur-tihar-comes-to-sheridan/article_48c32b74-3d79-11ec-8dc1-03807563e5f8.html