'Best Ever' Folk Art Auction Reports Matt Ledbetter
3 min read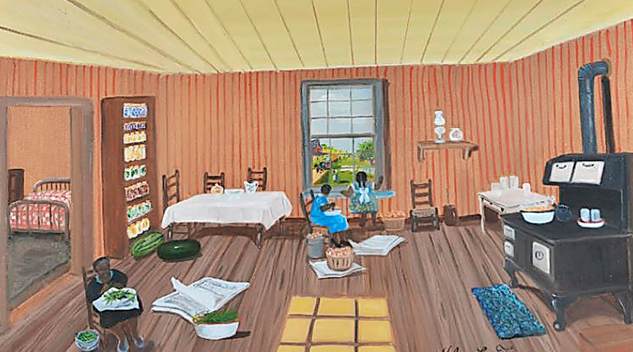 Review by W.A. Demers, Photos Courtesy Ledbetter Folk Art Auction
GIBSONVILLE, N.C. – Matt Ledbetter will tell you that he started his auction career when he was 5 years old, helping his father, a door-knock picker to haul pottery out of basements. His auction house is relatively new, having opened in January 2020 in advance of the Covid-19 pandemic, but it is benefiting from the strength of the folk art market, especially for Outsider and self-taught artists. Ledbetter's most recent sale on March 19 featured a collection built on the course of a 25-year period by Rick and Barbara Moeller of Roanoke, Va. It was a live in-person event along with online bidding and phone and absentee offering a total of 435 lots.
Top price, $21,250, was attained for a Sam Doyle (1906-1985) piece, paint on tin and titled "Blind Zel." Doyle of St Helena Island, S.C., was born in 1906 and died in 1985. The art measured 38 by 25½ inches and had been purchased by the Moellers from the 1998 sale of the Warren and Silvia Lowe collection. "Blind Zel" was exhibited in the "Baking in The Sun" traveling exhibit and a wood frame was built for it to sit in.
More than doubling its high estimate of $8,000 to go out at $16,250 was a paint on canvas by Kentucky African American artist Helen LaFrance (1919-2020). The interior scene was signed lower right and measured 23 by 29 inches.
"Expulsion," circa 1980, was by Edgar Tolson (1904-1984). In a private collection for more than 15 years, the legendary Biblical scene carved from white poplar and painted brought $15,625. It was signed and dated on the bottom in pencil and measured 16 inches long, 7 inches high and 4 inches wide. Ledbetter said the piece was purchased in 2006 by the Moellers from Slotin Auction, with provenance stating that it's from the Fleischer Gallery in Philadelphia. "It seems that the straight snake is rare as ten or more have a curled snake, and this might be the only one with a straight snake. The snake is 100 percent original and right," said Ledbetter.
"I now have the record for Lonnie Holley," said Ledbetter with regard to the $10,625 attained by Lonnie Holley's (b 1950) abstract ink and watercolor on paper in a very large size (30 by 26 inches). Estimated $1/1,500, the work had been professionally framed, was signed lower right and dated 1991. "He is a living artist," said Ledbetter, and this price is the record for him sold at auction. It was bought by an in-house bidder who was standing there at the sale. She never put her card down."
A monumental Minnie Adkins (b 1934) painting with artist-built frame and carved people at the bottom also surpassed its estimate of $1,5/2,500 when it was bid to $8,125. Width on the painting was a hefty 62 inches and its height was 50 inches. The average height of the carved figures was 7½ inches. Ledbetter even included a photo of the painting with a person standing next to it in the online catalog so one could gauge its size. Signed lower right "G and M Adkins," (the G for Garland) and dated 1995 the pastoral scene had been acquired years ago from Kimbell Sterling Auction Company.
Additional highlights in the sale included a carved and painted scene on wood plank, "Doing time, do not let time do you," 72½ by 11½ inches, by Herbert Singleton (1945-2007) selling for $7,813; a Clementine Hunter (1886-1988), "Saturday Night at the Juke Joint" acrylic on canvas, signed middle right, framed, 14¾ by 11¾ bringing $6,825; and a folk art carved boat of 43 inches by Louisiana folk artist JP Scott (1922-2003), which was bid to $5,938 "It took JP a month or longer to build each boat," observed Ledbetter. "He wouldn't let anyone rush him."
Satisfied with his sale results, Ledbetter concluded, "That is a big deal because I'm in a small town. I had two different buyers who spent more than $30,000 on self-taught art. One stoplight town with railroad tracks and sales more than $300,000 – and we're not stopping there. We have 10,000 pieces in storage ready to roll."
Prices given include the buyer's premium as stated by the auction house. For information, www.ledbetterauctions.com or 336-524-1077.

https://www.antiquesandthearts.com/best-ever-folk-art-auction-reports-matt-ledbetter/