Artist Shirle Wempner featured at Art Focus | Local News
3 min read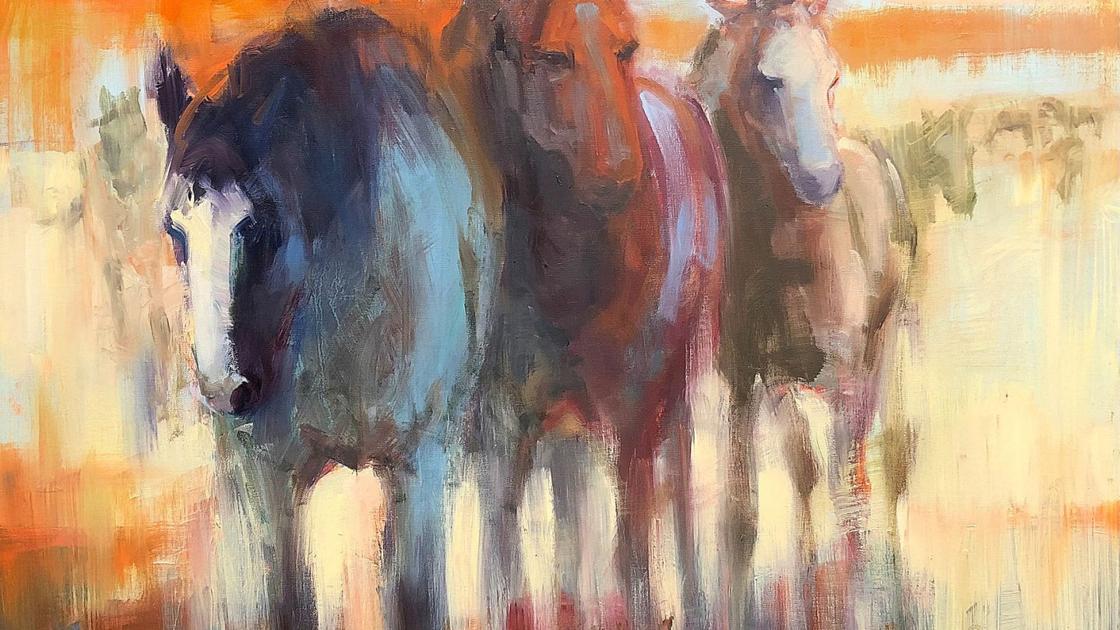 Big Timber oil painting artist Shirle Wempner will be featured this month in her show "Impressionistic Expressions of the Untamed West" and an artist reception on Friday, Nov. 5, at Art Focus in Hamilton.
Wempner said in her work she mostly focuses on wildlife figurative, western figurative, some modern figurative and has a strong interest in Native American culture.
"I like to incorporate a lot of colors and more impressionistic work, so it is not like a photographic representation," she said. "When people are looking at my work I like to get more of a feeling, more of an emotional reaction to the colors or the way it is painted or the subject matter verses looking for a story."
Wempner said she has always enjoyed painting wildlife and nature and how they are linked together.
"And how Native Americans' spirituality and connection to wildlife flows," she said. "I enjoy experimenting with this and exploring as I am painting."
Colors and light play a big part in her work.
"It is depending on the day, but I like the contrast colors," she said. "Sometimes I try to subdue it, but it just doesn't work. I think 'don't fight yourself just do what you like to do.'"
Wempner is a member of the Montana Painters Alliance formed 13 years ago with Wembper's husband, Thomas English as one of the founders.
"It's a group of artists who get together in spring and fall and paint outside, Plein-air," Wempner said. "We go to all different areas in the state for our paint-outs for three or four days."
She said it started because with artists usually painting alone in their studios gathering for camaraderie and encouragement was important. There are nearly 30 members in the Montana Painters Alliance.
"It's like a family of artists," Wembper said. "We want to keep it small enough to go to a place and stay together. We've hosted in our ranch before. It's really fun and when we can we follow up with a show at a gallery in the area."
Wembper said she usually paints in her studio but attends the Plein-air painting events to learn and grow.
"I enjoy painting outside, it is very challenging," she said. "You may not realize what you're learning as you're out there but when I return, I realize I'm looking at things differently. It can really help that way."
In her artist statement, Wempner said, "The untamed west brings a multitude of images to my mind which includes wild spirited animals running across the countryside and nostalgic visions of times long gone. Both the spiritual and historical west has been a passion for me ever since I was a child growing up on a horse ranch. Every sunrise and sunset brings a multitude of emotions, visions, and longing to my soul, and I love to capture that energy in impressionistic imagery through my painting process."
She said she strives to connect with the viewer through their visual completion of the subject matter.
"To achieve this, I work diligently at 'implying' the subject with broad brushstrokes and bold colors to create an impression of the subject rather than rendering a more detailed result," Wempner said. "This, I believe, draws the viewer into the painting and allows them to more fully participate in the essence of the piece. Emotions are what touch and form our souls, and a stirring of emotion is what I strive for in each piece I create."
Meet the Wempner at the artist reception from 5-7 p.m. on Friday, Nov. 5, at Art Focus, 215 West Main St., Hamilton.
https://ravallirepublic.com/news/local/oil-painting-artist-shirle-wempner-featured-at-art-focus/article_dcbca4b4-07a3-5e69-b02f-215b00c1327f.html