Art Bright bringing seniors' memories to life | Elk River Star News
6 min read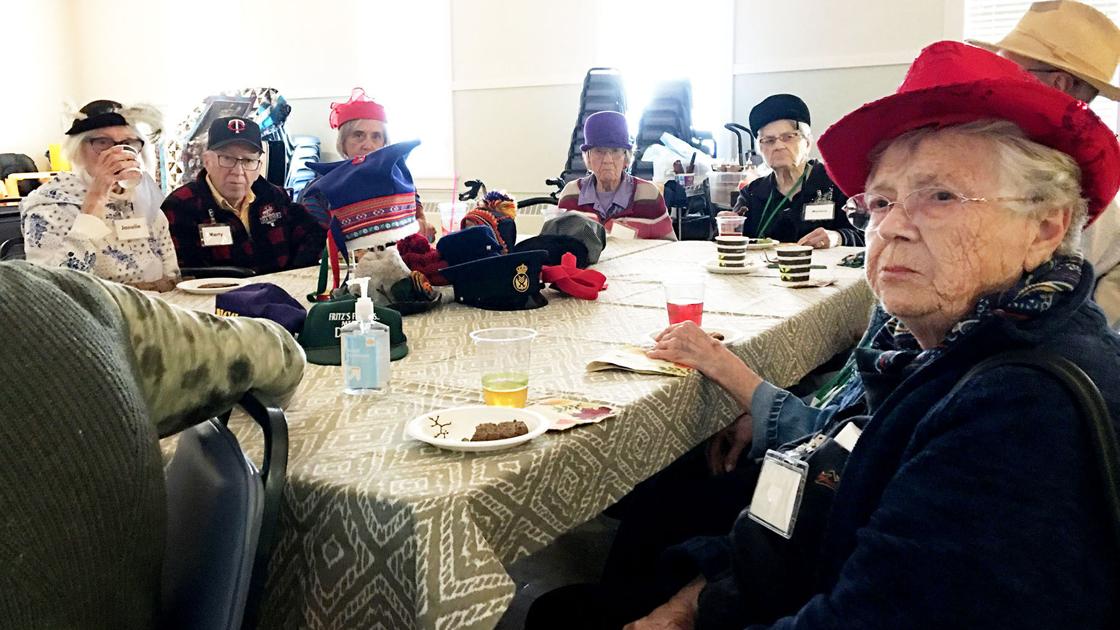 Sherburne County Area United Way is promoting initiatives that represent all of life's journey.
Art Bright is the newest program to be placed under the Sherburne County Area United Way umbrella. It will serve the aging and memory loss population in the region. As executive Kat Sarff says, "This is a perfect fit for (our) agency."
The local chapter of the United Way is dedicated to driving lasting change in the Sherburne County area by uniting change makers to advocate for the common good of the community and to develop innovative solutions to local complex challenges that cannot be solved alone.
The Art Bright program was brought to Elk River three years ago by artist and teacher Paula Benfer. By using visual arts as a focus, participants are encouraged to recall memories, develop social relationships, and exercise cognitive and creative thinking during activities.
In the process, participants learn how to stimulate recall and memory by using images, home resources, and visual art as a motivational tool. Even grandchildren can learn how to stimulate conversations with this method to bring joy and support to this population.
'Senior moments' not always a sign of memory loss
As stated on the National Institute on Aging website, "Senior moments are not always a sign of memory loss; they are part of aging."
The institute states: "The U.S. population is greying. We are living longer, especially women. Seniors who want to maintain independence, may try to maintain their lifestyle in their own homes. However, there are eight diseases associated with memory loss which may make it impossible for families to support that independent living."
AARP states that the average age of a caregiver is 49. The CDC states that 1 in 12 Americans 65 or older may have significant memory loss. Many of these diseases begin 20 years prior to a diagnosis of medical memory loss.
The recent isolation resulting from the COVID-19 pandemic only aggravated the issue, according to the National Alzheimer's Association.
It published a statements during the pandemic that read: "During isolation, many seniors and families were unable to access resources which might have held off decline. Access to home health care resources, limitations with health insurance, and lack of community programs are common; and aggravate the issues for families. No cultural group is spared."
Families may not have the funds to provide residence care. And communities have been slow to become "dementia friendly," said advocates at the Central MN Council on Aging.
"As we fail to act, families see their loved ones falling silent," Benfer said.
Art Bright aims to battle isolation
Sherburne County Area United Way is partnering with Art Bright to "break the isolation," and help aging populations and their families learn how to communicate, Sarff said.
The program is open to pairs of friends, family members, care providers and patients, church friends, neighbors, and advocates for seniors. It has had independent seniors, couples, health care advocates, and residents from care facilities ride public transportation with their activity directors to attend sessions.
Here in Elk River, for the past three years, Union Congregational Church, United Church of Christ, 1118 Fourth St. NW, has been a community site for sessions. Attendees have signed up for four weeks in a row, frequently on Tuesdays, from 10 a.m. to noon. The group of 16 to 18 participants is joined by four or five trained volunteers.
Sessions have a theme, get people thinking and talking
The artist/teacher designs the curriculum for the day around a theme, which is carried through all activities.
First, Benfer leads the participants through a discussion about a piece of art, a museum reproduction or her own art piece. The process is a "guided review" of the image. People discuss the details of what they see, make associations to memories it prompts, and then converse about connections to their own experiences. Examples of themes used include family trees, childhood play, collections, shoes, hats, gardens, vacations/trips, and school experiences.
Second, after examining and talking about a piece of art, the group has cookies and treats together around a table. Objects displayed on the table represent the theme and stimulate memories. Conversations play out naturally and participants experience joy in community conversations. There is a lot of laughter, and people are often surprised by the recall of a memory which they thought was dormant.
Third, the group creates a piece of art at their own skill level.
"No one is judged, only encouraged by the teacher and volunteers," Benfer said. "Caregivers relax as they create, as their partners engage with a volunteer who gently guides their memory participant through the activity."
For instance, when the theme was "school memories," Benfer brought painted chalk boards. Each participant was given letters cut from sandpaper, for dexterity, and they were asked to create a design by tracing the letters of their first name, in a circular pattern from the center. They traced with white pencil, and then they were encouraged to paint the design in with white chalk paint, or to fill them in with white pencil.
"No two were alike." Benfer said. "And while they worked, they talked and made new friends."
Exhibition of work planned for Nov. 14
The current group of 18 participants has met on Tuesday mornings in October. On Nov. 14, Union Congregational Church in Elk River will have a small exhibition of their work in the Narthex art gallery.
"If you would like to view it, please do so before Thanksgiving, as the participants are anxious to take their work home," Benfer said.
Expansion of Art Bright sought in Big Lake, Zimmerman and Princeton
Now that Sherburne County Area United Way has taken this program for seniors under its wing, there are plans to expand in the region.
Benfer and Sarff say they are seeking "cornerstone partners" in Big Lake, Zimmerman, and Princeton who will provide meeting spaces, refreshments, art materials, and volunteers who want to hold a session of four classes in their community. The program will be financed through grants, sponsorships, corporate gifts, donations, and memorial gifts.
Contributions may be given to support the program on the SCA United Way website.
Organizers say they do not want to turn seniors away who have limited funds.
There also will be media resources written by Benfer posted on the Sherburne County Area United Way website to support clients at home or in small groups who want free fine art resources and themes to guide discussions.
There will also be links to the Central MN Council on Aging, state, and national programs posted.
SCAUW also would like to sponsor "Train the Trainer" workshops. These would be appropriate for a community gathering of faith groups, staff development, or community sponsors.
The workshop would address leaders who want to take this program to their congregants, leadership teams, or interested citizens.
"The advocacy workshop goal would be to help community change makers develop their own programs, using the Art Bright skills and models, to enhance the goals within their home organizations," Benfer said.
SCAUW would also like to use Art Bright as a vehicle to advance goals in communities which would assist them in becoming "dementia friendly."
Programming options exist for libraries, community events
Over the next two years SCAUW and Art Bright see the programing for youth groups and community events working with community locations like libraries, and organizing community events during nationwide programs like the Walk to Fight Alzheimer's during June.
"We recognize there is much to be done, and we will continue to set achievable goals, assess progress, and welcome community advocates," Sarff said. "We welcome representatives from all cultural groups to help us alleviate the stress and frustration of care giving, and to provide activities which support relationships and dialogue which is positive, appropriate, and meaningful within all families."
Contact the Sherburne Country Area United Way at 763-276-1259 or go to sherburneunitedway.org if you would like more information or want to get involved.
https://www.hometownsource.com/elk_river_star_news/art-bright-bringing-seniors-memories-to-life/article_a1489012-38d4-11ec-b370-6f9b6a8c1ec6.html